The Prudential Assurance Co. Ltd
The Prudential Assurance Co. Ltd (11 Broadgate) was designed by Mr A Bentley Williams of Oxted in 1938. The mock Tudor, half timber building used beams from the sixteenth century Staple Inn, Holborn (London) and other timbers & tiles from an old barn at Upton Warren near Bromsgrove (Worcestershire). Opened for business in March 1940, with a sombre reminder of the war –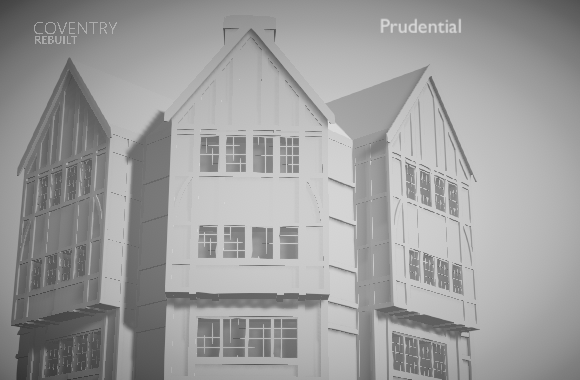 The basement is to be opened to the public as a shelter for 325 souls. 14th November 1940 the building was burnt out. The shell of the building was unsafe and had to be demolished.  
After the destruction of the main office, temporary arrangements were made to receive claims at 1 Queens Road, 33 Hertford Street or 507a Foleshill Road 
The building stood approximately where Wilko is today.