After the demolition of Butcher Row in 1935 [the oldest part of Coventry dating back 700 years], the Liverpool based Owen Owen department store planned a new venture in Coventry.
After several delays, the store opened 11an 17th September 1937 to coincide with the opening of Trinity Street. Employing over 400 staff, the store sold almost everything. Like many of Coventry's 1930s grand designs, it was completely destroyed on the 14th November 1940.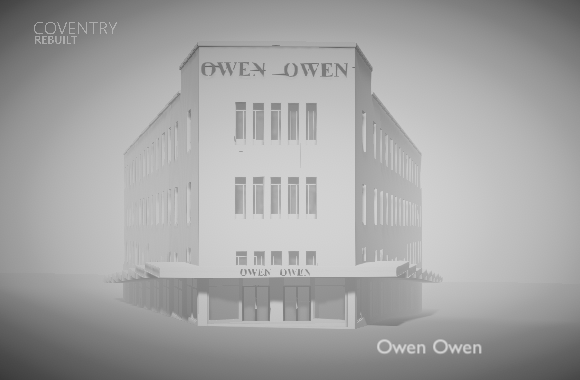 Owen Owen Ltd and their associated company J. P. Hughes Ltd possess two large stores in Liverpool, which have now reached a stage of demanding further developments. Coventry with its population of 200,000 and a further 100,000 in towns immediately adjacent was considered large enough to support a store of this statue, the first venture for the company outside of Liverpool.
Owen Owen Ltd a family-owned business was originally founded in 1868 and caters in the main for the family with incomes of between £200 and £600 a year [Today's money £10,000 – £30,000]
1936 September 14th– Appointments now being taken for Hairdressing and Beauty Culture – Please phone Coventry 5566
September 16th 200 prominent figures in Coventry's civic and business life will be the guests at a dinner to be given in the store restaurant. Jack Wilson and his boys were invited to perform, unfortunately, they had a prior engagement at the Birmingham Empire Theatre.
The toast by Alderman Vincent Wyles
"Shopping Future of Coventry"
He was proud of the Trinity Street scheme he brought forward 27 years ago which had provided the forerunner of the scheme.
" I may say this store has meant using our credit to the uttermost. We have responded to Coventry's invitation by the most supreme act of faith in a material way that any business firms could possibly undertake. We have indeed sunk our eggs in the Coventry basket".
Mr C. P. Russel who is Chairman of the Retail Distributors Association said
"Far from hurting the small trader, a departmental store of this size and attraction makes shopping centre where none existed previously or only in a small way."
He recalls the shopping of Coventry of half a century ago (1880s) with all its shuttered windows and could trace the extraordinary evolution in the shopping system that had taken place since then.
Opening Ceremony by the Mayor Alderman A.H. Barnacle at Broadgate Entrance to coinciding with the Opening of Trinity Street. A huge crowd gathers –  Women who were unable to get a glimpse of the ceremony used the makeup mirrors from their handbags as periscopes.
Mayor Barnacle
"People should now dispel forever the old bogey of Coventry's Backwardness it was now their duty of the citizens of Coventry to spend their money in the city. The citizens of Coventry had a direct interest in the Company's prosperity inasmuch as the Corporation was the owner of the site.

When the lease of 99 years ended, he hoped the history of the store will have been such that the Corporation of 2036 would have no hesitation in granting a renewal of the lease. To Messrs Owen Owen and to all tradesman in the city the Mayor said he wished good luck and prosperity in the developments that so obviously lie ahead in Coventry."
Presented with a gold key, he unlocks the doors. The Mayoress was presented with a bouquet of flowers and then they tour the store and were the first to sign the visitor's book.
Soon after the doors opened and mainly women who hoped to be among the first customers rushed in.
Mechanical man Monsieur Patou visits for three weeks!
Don't fail to see his demonstrations, they're mysterious, baffling! See if you can answer the question that everyone in Coventry will be asking:
Is he man or machine?
Coventry shoppers rubbed their eyes in amazement yesterday afternoon when a car pulled up outside Messrs Owen Owen Store in Broadgate and from it a alighted a man wearing a silk topper, silver-knobbed cane and immaculate evening coat.
But it was not so much the manner in which he was attired as the way in which he walked from the car to the main doors of the store that made the people stare. His gait was of no ordinary human being but more than anything it resembled that of some mechanical man. Actually, they were witnessing the arrival of Monsieur Patou the mechanical man.
Monsieur Patou will demonstrate in the store every day at 11:30 and 3:00. With a show of Magic in the second-floor restaurant at 4:30.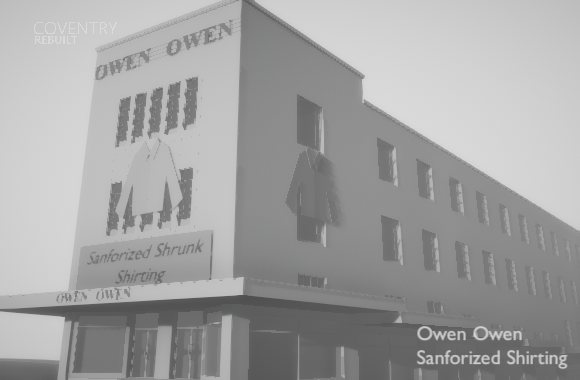 1938 December – Sanforized-shrunk shirting measuring 129ft was hung on the front of the store for 7 days and 7 nights. It was then washed 7 times by the London laundry to show its non-shrinking qualities.
IT DID NOT SHRINK
A FRACTION OF AN INCH!
350 Women Wardens needed but only 60 have so far enrolled.  The primary objective of the wardens is to keep the populace calm during the course of an air raid. The supervisor, Miss Betty Winslow said –
"Homely sort of women is what we want. They must be level headed, in fact, the sort of women the neighbours would run to if they were in trouble at any time."
Applicants must be between 35 and 50 years of age. When an air raid warning sounds they would be allocated to the shelters in the city centre, which include those at Owen Owen, British Home Stores, Smarts, Mills and Mills the Cathedral crypt and others in Cox Street, White Friars Street, Bishop Street, Bayley Lane, West Orchard, High Street, Hay Lane, Much Park Street, Broadgate, the Market Hall Cellars and at the Gas and Electricity Showrooms in Corporation Street.
Enrol at Owen Owen today!
Theft – Ronald Barham (40) stole a pair of gloves and a woollen scarf. Due to previous offences, he was sentenced to three months hard labour.
Appeal – Norway appeals for Wool for their armed forces to fight in the depths of winter, many stores including Owen Owen donate.
Attempted Theft – Housewife Edith Avery (23) 22 Birchfield Road charged with the theft of a handbag. Miss Sarah Roderick said she observed the women handling several bags in the handbag department. The woman dragged a bag towards her surreptitiously and after looking round her walked away and then began to run. The store detective followed –
the defendant turned around and said
"You are following me"
The detective replied
"Yes I am. I am the store detective and you have taken a bag without paying for it".
The police arrested the defendant – used the defence said she picked up several handbags, put one down and did not realise she had the shop handbag in her hand. The charge was dismissed.
Theft – Margaret Watson stole items along with Jemima Gibb Noble (38) a well-dressed mother of five, the eldest is 21, stole a dress and various other articles. Due to prior convictions, she was sentenced to 28 days imprisonment with hard labour. With her husband in employment, she had no reason to thieve. When the sentence was announced the prisoner wept and another woman was carried screaming from the court. Margaret Watson received a fine.  
Theft – Florence Plummer (31) stole hats, bottles of perfume and other articles. Her husband was in France and she had four children and only 42 s a week with which to keep them [about £80 in today's money]. Probation.
Theft – Mary Cronin (30) maid of no fixed abode from Killarney stole a pair of gloves and razors. Fined.
Theft – Elsie Mansell (36) and Isobella Scott (26) both married and apparently living together stole various articles. Both received a fine. 
Mrs Griffiths who announced the Coventry Police Court decision said –
"The magistrates have got to stop you women going around pilfering from shops. This kind of thing becomes a positive menace"
Half day opening – Discussion on Half day opening. Coventry Half Day is Thursday the same day most of Coventry workers are paid, forcing people to travel to Birmingham. 
Mr Duncan Norman managing director talks to the Coventry Psychology Group at the Geisha Café on the topic "Psychology in Business". He stressed the importance of giving subordinates free rein in the suggestion of ideas. Members of office staffs, he said, should never be afraid of going to their immediate chief with suggestions for improvement.
Theft – 12-year-old girl stole several items. Her mother said she had run wild since the schools had been closed. She also said her husband was in the hospital and not expected to live. Probation 12 months.
1940 February Injury – Thomas Donnelly (28) walked into a plate glass window at Messrs Owen Owen on Wednesday night during the blackout. He cut his head and was taken to the hospital.
15th October – Owen Owen suffers bomb damage
16th October Will all staff please report at the staff entrance tomorrow (Thursday 17th October) in the following order
Café – 9:30 am, Ground Floor Staff 10.00am Lower Ground Floor and First Floor 10.30am Office and Service Staff 11.00am.
17th October – Owen Owen are proud to announce that owing to the loyalty and industry of their staff, they are able to open the store tomorrow, Friday at 2.30 pm.
1940 - 14th November: Last Advert of Owen Owen...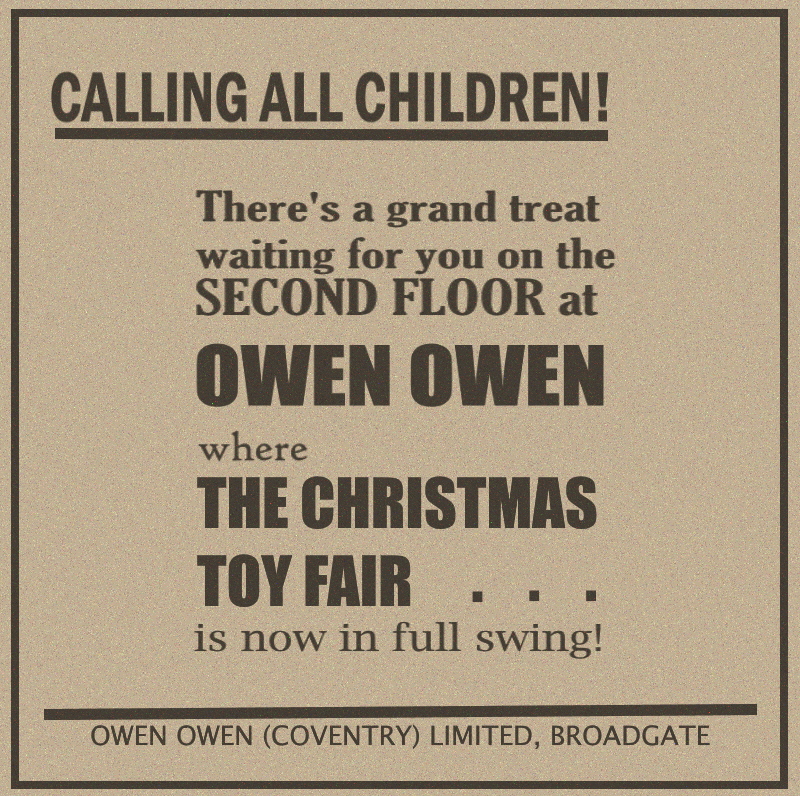 November 19th – Owen Owen (Coventry) Ltd NOTICE TO ALL STAFF – All instructions to staff will be published through the columns of this paper. A staff office to deal with queries will be opened in the city as soon as possible. All wage clerks are asked to report to Miss Arthwison, Linden House, 4 Spencer Road Coventry.
November 21st – Notice to all staff – Temporary offices have been opened at 2 Queen's Road Coventry. All staff are asked to call there on Friday or Saturday next for their wages and further instructions. If possible please call at the following times – Selling Staff: Friday from 10 am to 1 pm, Café Staff Friday 2 pm to 4 pm Non-Selling Staff Saturday 10 am – 1 pm.
November 26th – Owen Owen wishes to announce that they will shortly Reopen in smaller premise on the opposite side of Trinity Street –
The opening date will be announced later.