Councillor Grindlay asked –
"Who are Marks and Spencer and what is the nature of their business?"
(This was met with laughter at the meeting).
Alderman Batchelor replied –
"Similar to Woolworths, but they don't restrict themselves to sixpenny articles."
The plan – temporary and permanent building erected on the site of No 12, 13, and 13a Smithford Street by Marks and Spencer Ltd (approved by the general Works Committee).
Vicar Lane corner will be splayed off so as to facilitate vehicular traffic between Smithford Street and the Lane. Mark's and Spencer will be allowed to build a 'temporary' frontage on Smithford Street paying rent to the Corporation on lands for at least 10 years. Later the land will be used for street widening. Designed by Mr A. E. Blatzer of London at a cost of £300,000 to £400,000. The cost is expected between
12, 13 and 13a Smithford Street currently occupied by Hat manufacturing Company Ltd, J T Moy and Son Ltd and Broadway Tailors.
In 1927 a notice of dilapidation was served on Moy.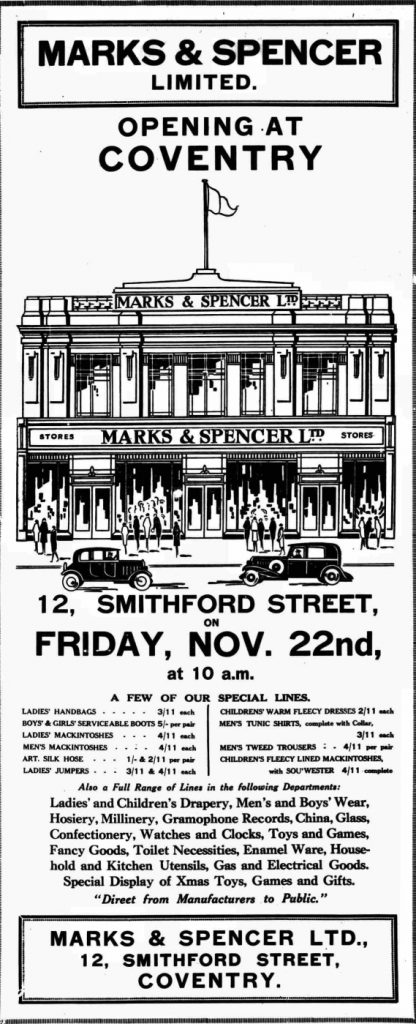 During the demolition of the final wall of the building immediately behind the premises of Messrs Marks and Spencer was commenced a hidden room was found.
The wall concerned was the furthest from the proposed arcade, and was unusually smooth and upright. It contained a fireplace. When the wall was knocked down it revealed another fireplace of older brickwork behind it. The most peculiar feature of the affair is the fact that there is a space of at least five feet between the two walls making, in reality, a secret apartment.
That this was ever inhabited is doubtful. However, because the place was sealed up entirely as it probably had been for centuries.
[Here's a guess – Could this have been a Priest Hole?]
June – Women's Charity Cricket Match to raise funds for the hospital – Marks & Spencer staff vs Woolworths staff. Woolworth's girls in white jerseys and shorts – Marks and Spencer girls white shirts and grey shorts.
August – Robert Stanley Stainer charged with stealing two Men's shirts from Marks and Spencers.
October – Ada Wykes Housekeeper in Tile Hill stole two lady's dresses, a lady's handbag and an umbrella.
February – Why Not become a club holder? Spare time work earns a generous commission and helps your income considerably. No clerical worries, everting simple and straightforward. Satisfaction guaranteed – Apply at the Club Desk. Marks and Spencer Store 12-13 Smithford Street Coventry. 
September – Thomas Cooley found guilty of stealing six pocket wallets, a tobacco pouch, a purse, an alarm clock, boot polish and soap. 
November – One man sentenced to hard labour for 28 days and fines imposed on four women for stealing from Marks & Spencer. 
Alfred George Denscombe steam wagon driver stole four pairs of gents kid gloves and two mufflers to the value of £1, 3s 6d – he had served 13 terms in imprisonment the last in 1923. Two housewives – Jane Baldwin, Sarah Bond both charged with stealing boys boots, a pair of child's shoes, half a pound of tea and various other articles to a value of 12s 8d both were fined £1. Mrs Florence Pratt and her daughter Mrs Bertha Howe were charged with stealing two shirts and a doll to the value of 8s 10 and were both fined £1. 
The store has now been compelled to hire a store detective to put a stop to all the pilfering!
April – Magistrate remarks:

"Maybe somethings should be done about the number of cases stores like Marks & Spencers bring to the courts.

The modern way of shopping in putting goods in temptation of the public may in part encourage this kind of unfortunate behaviour!"
April – Harriett Ingham widow charged with stealing shoes valued at 5s. let off with a  caution.
June – Maud McPherson charged with stealing goods to the value of 12s from Marks & Spencer and Woolworths. 
June – Ellen Potts charged with stealing a handbag – the store detective had seen her drop the handbag into a larger bag. Pleaded guilty and let off. 
June – Agnes McGuiness (29), Elsie Alton (18) and mary Bonder (17) charged with stealing three umbrellas, one pair of shoes, one child's dress, two pairs of artificial silk knickers, one artificial silk scarf, one jar of face cream to a value of £1, 6s. The older woman fined 40s the other two fined 20s. 
November – Adelaide Jean Morris (21) charged with stealing gloves, scarves, slippers, a handbag, handkerchiefs, fountain pen, soap, tinned food, biscuits, a broach and toothpaste. Fined £3. 
November – Catherine Sarah Ann Stanley (39) charged with stealing lady's gloves, a pair of child's cloves a handbag, and ring. Fined £1
January – Beatrice Minshall (50) charged with stealing various articles. Fined 40s.
February – Initiative across the city shop traders to reduce opening times. Marks & Spencer along with Woolworth's will now close at 8:30 pm on Saturdays rather than 9 pm to reduce the hour's shop assistants need to work.
April – Violet Morgan (36) – Charged with shoplifting. 
May – Ellen Eliza Rushton (60) stole a pair of ladies fabric gloves and a tube of face cream. She said "since she had lost her daughter she had lost herself". Fined £2.
May – Elizabeth Blackett (41) stole a pair of ladies gloves, a pot of sandwich paste and one tine of fruit. Her Doctor said she was of good standing – about a year ago her husband had met with a serious pit accident and since then she herself had gone out to work, but struggled due to illness. Probation for 12 months. ​
October – Mary Ainley found guilty of sealing a number of items. Fined 40s. Phyllis Edith Manning and Elsie May Hare both fined 40s for theft of various items. 
November – Violet Helen Simpson (44) stole a handbag fined £1. 
November – Doris Evely Ashby (18) stole various items – probation for 12 months. 
December – Over seven children lost their parents in the store and were cared for by the staff – a similar situation has arisen Woolworths. Owen and Owen have made special provision with an area near the bureau office with children's books to keep lost children occupied while they wait for their parents. 
October – Edith Anne Parr (50) Widow and her daughter Margaret Jane Rogers (28) found guilty of stealing a number of items – all black. They were stolen for a funeral. The magistrate whilst sympathetic said it was no excuse and fined them each £2. ​
January – City Fire Brigade Called to Marks and Spencer within the city danger zone at 8.40 by the watchman who saw smoke emerging from behind the refrigerator on the cooked meats counter. The firemen who turned out with two machines found the electric motor of the refrigerator was on fire. This was promptly dealt with by chemical extinguishers – no damage was caused except to the motor which was burnt out.
February – Elsie Evelyn Walker (35) stole men's kid's gloves – fined £1. 
March – Annie Evely Ledbetter (38) May Kathleen Page (39) stole child's dresses, a lady's dress, a cardigan, two jerseys, a blouse and four torches. Each fined £1.
March – Annual Marks and Spencer Dance. 
July – Staff raise £3, 5s for War effort – Marks and Spencer corporate donate £2.
July – Lily Picken (35) fined £5 for stealing various items with the help of an 11-year-old boy who was put on 12-months probation. 
August – Mary Colquhoun , Isabel McPheators, Mary Ann Waugh and Jane Aqnew were all found guilty of theft. Each fined between £1, 10s and £3. 
August – Elsie Nora Mansell (30) pleaded guilty to theft of a pair of sandals, two pairs of ladies gloves and a lady's skirt. Fined £2. 
September – Mrs Mary Elizabeth Fellows fined £2 for theft of a suit. 
September – Lily Jamieson (29) stole shoes and a vest – fined £2
November – Dorothy Hurt (38) stole jars of jam, fish paste, clothing and a loaf of bread. When apprehended in the store she said – I have plenty of money, and I would have paid for them if the young woman assistant had only asked me for the money. When arrested she was found with £10 in her possession. She had been in the city only a few weeks, having come from Wales. Her husband was in work and there was no excuse for her behaviour. As she stood crying in the dock "I didn't want to take them, I don't want the things and I don't know what made me do it.  I have never done anything like that before". She was fined 20s.
November 14th – The Coventry Marks & Spencer Store is destroyed in the Coventry Blitz. 
(more to come..)