Welcome to the Coventry Rebuilt App – Coming Soon!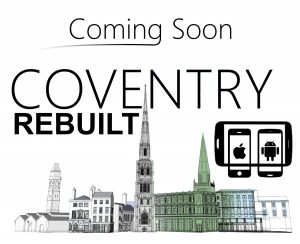 Would you like to travel back in time? The Coventry Rebuilt App provides the opportunity to travel through time and space with a virtual walk through the streets of old Coventry. This 360 film should give you a flavour of what is to come – pan around and city rise and fall. If you are using a mobile device – watch it via the YouTube channel for the full experience.
Originally it was planned to launch the app in September, but this has been put back to November. The App will be available for smart phones and tablets (Android & Apple). Starting in Broadgate, your tour will begin with a stroll towards Cross Cheaping, the Whole sale Market, Market Street, Smithford Street and back to Broadgate. At every point along the journey you'll be able to change the time period, from 1850's, 1880's, 1930's, 1940's, 1950's to present day.