What is Coventry Rebuilt?
Coventry Rebuilt is a highly detailed computer model of the city, which will chart every aspect Coventry's history. From the very early origins, the radical changes leading up to the second world war, right through to modern day. Every effort will be made to capture the smallest of details to bring the history to life. The project will be shared in two ways, films and virtual reality.  The film below provides a quick overview of what's been achieved so far.   
Why Coventry?
An ancient city with a unique history. The early origins of what would be come Coventry can be traced back to 700 AD. During the Middle Ages, Coventry became one of the most important cities in England, mainly due to its booming cloth and textile industry. During the reformation the city lost its cathedral. Later the city played its part during the English Civil War – 'Sent to Coventry'.
Famed for its watch makers, industry took firm hold of the city. Watches became sewing machines, sewing machines became bicycles, bicycles became motorcycles and cars. Money flowed into the old, overcrowded city, many historic buildings were torn down for new developments.
Unfortunately, the industrial might of the city made it a prime target during the second world war. Huge swathes of the city were lost, what remained was mostly demolished to make way for a vision of the future. Over this relatively short period (1880 – 1960) 95%+ of the ancient city was 'lost'.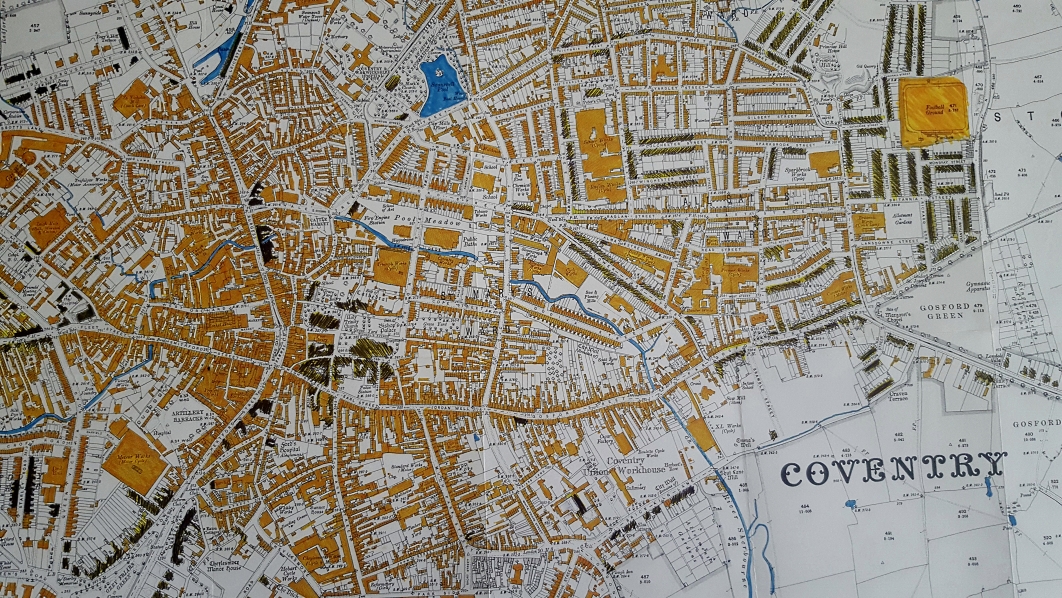 Films?
A growing number of YouTube films will be added to as the story progresses. Each will tell a different story, some will be an overview, others will concentrate on a street or building of note. Each film will highlight another thread in Coventry's history. Eventually a feature length film is planned that will tell the whole story of the unique city of Coventry. This website will be used to explore some more of the history behind the films.
Virtual Reality?
Ultimately, we are all waiting for the invention of a holodeck. In the meantime, a number of experiments in virtual reality/Augmented reality tours will be developed. The technology is rapidly developing, so will the tours. To begin with, it is planned to have a short VR app of Broadgate showing how it looked in four time periods (1880, 1930, 1945, present day). Added to this will be a number of short histories of each building of note / street, which are available on the Coventry Rebuilt Website.
Who is doing all of this?
This is a hobby! And far removed from my day job. My other hobby is art; sometime in 2008 I decided to teach myself 3D computer graphics using some free software from the web. In 2009 I moved to Coventry, knowing very little about the city I began to use some historic photos to make computer models. A building here, a building there, without much of a plan. In 2016 I moved away from Coventry, a few months later I decided to clean out some files from my computer. Rather than deleting the models, I shared some images on Facebook.
I was taken a back by the interest, so, even though I no longer live in Coventry I decided to continue with the project and see how it would develop (make it up as I go along!). From 3D modelling, film making & editing, historic research and now app building…
I haven't received any funding for this project, it is a personal hobby that I do in my spare time. See the  Coventry Rebuilt Facebook for further details, you can also see some of my art work on my PJK Facebook page. And if you really want to get hold of me, please feel free to send a message using the contact page.
All the best,
Pete
Peter James Knight